What is the Public Speaking course all about?
Public Speaking is an introduction to the basic principles and skills of delivering information in a public setting. This course has two interrelated goals. First, it will introduce you to the basic concepts, vocabulary, theories, and processes relevant to understanding oral communication in a variety of interpersonal, public, and cultural contexts. Second, it will enhance your communication skills by providing systematic opportunities to practice clear, critical, and ethical oral communication. This course is designed with the intent to integrate theory and practice throughout the course. Your classroom experience will combine lectures, discussions, small group activities, written assignments, public speeches, and out of class observations.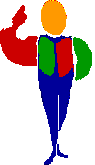 Relevance of Public Speaking
In a complex and culturally diverse world, the ability to communicate effectively has become increasingly important. One of the most desired skills in corporate America is the ability to deliver information orally to a group of people. With this skills set comes the power to influence others. Living in a democratic country like the United States also reminds us that to voice our opinions about values, policies, and principles is our right and privilege. We must learn to express ourselves coherently so as to contribute to the on-going creation of our free society.
Speak up - Speak out!
You will find this website useful in several ways, including access to the complete syllabus, course calendar, assignments, models, and more.